We stayed at one of Universal's on-site hotels, the Cabana Bay Beach Resort.  (If you are looking for pictures of room details there are none in this post….just a lot of pool pics of my kids).  This is the value hotel in their hotel line up.  There are 5 wings, and there are two room types: family suite and standard.  The family suite has a kitchenette and sitting area with pullout bed, while the standard room does not.  The styling of the hotel is retro themed.  This hotel boasts a huge lobby area with bar, 2 pools, a lazy river, sandy areas to lay out or play in the sand, firepits, a very large cafeteria, a gift shop, a starbucks, a workout room, an arcade room, and a bowling alley.  Staying at this hotel allowed early park admission to The Wizarding World of Harry Potter™, one hour before the theme park opens (valid theme park admission required).   You do not get Universal Express, which is the equivalent to Disney's FastPass, if you stay at this hotel, if you stay at any of their other hotels you do.
We ate at the cafeteria quite a few times.  Unlike Disney hotels where they link all your stuff to your magic band, you have to go to the front lobby and ask for a charge limit to be allowed on the card, that's what we did.  Also, the only thing they do room service for is pizza.  You can order any of the food in the cafeteria to go and take it to your room yourself.  I liked the variety of the food and the quality of the food offered.  The prices were not super expensive but not cheap either.  If you rent a car I highly recommend picking up some things like bottled water and snacks to keep in your room.  I packed nutrigrain bars, mini-muffins, fruit snacks and goldfish.  The kids ended up eating a nutrigrain bar or mini-muffin on the three mornings we went to Universal to avoid hangry children (which any adult knows is the worst).
Unless you don't have a bowling alley near your home I don't recommend bowling here.  The prices are super inflated.  We went to check it out and walked right back out.  I don't remember the prices but it was at least double a normal bowling alley.
The beds are comfortable with firm pillows and the rooms don't have the window AC units.  The bathroom set up for the family suite has a sink and bathtub/shower room on one side and a toilet room on the other with a double sink in the middle, both rooms have doors for privacy.  The bedroom and living area is separated by a sliding room divider.  Both rooms have a TV.  The kitchenette has a sink, mini fridge and microwave with a bar seating with two bar stools.  The rooms are not big, but they are comfortable and very clean and well maintained.
So here's a map of the resort that you get when you first check-in.  We stayed in the Continental wing, which I hear is quieter than the wings on the other side of the lobby area.  The Continental and the Americana rooms are "tower" rooms meaning they are like hotels where your door is inside.  The other wings are courtyard and your door is not in an AC'd hallway, similar to a motel.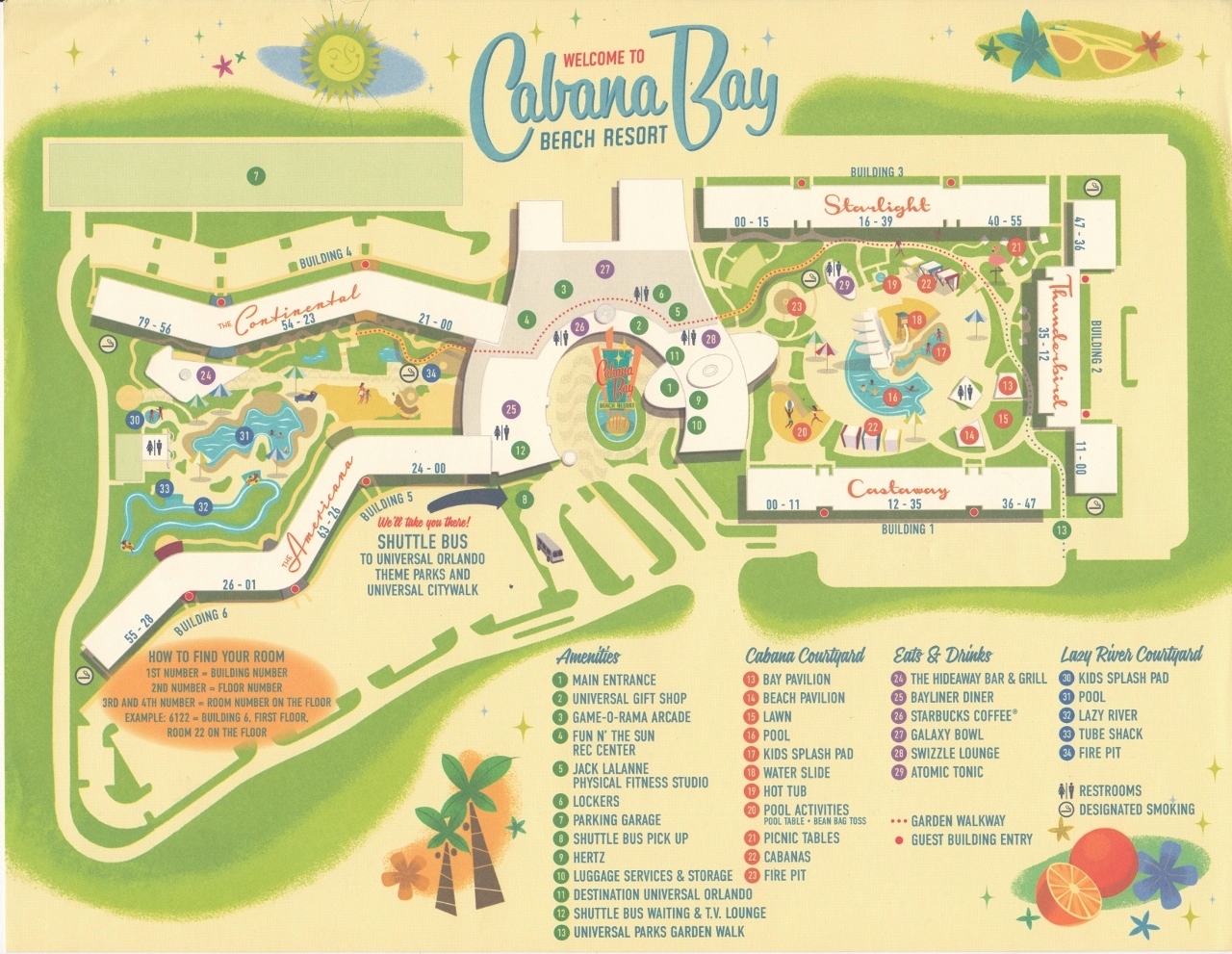 We visited both pool areas.  On the first day we went down to the pool area closest to us.  This is the kids splash area , which is just a fountain that shoots water.  It was also much too cold since the sun was already hidden by the building.  All the water/pool photos were taken with Ian's water camera!  Fujifilm FinePix XP80 Waterproof Digital Camera with 2.7-Inch LCD (Yellow)
Ian was upset we didn't stay longer, but Jensen was upset so we left and told Ian we would go swimming.  So on one of the Universal days where we got back early we went to the other pool area, which is kind of a hike, you have to walk through the main lobby building to get to it.  But this side is much more exciting with a water slide and bigger splash pad.
After the splash pad area we went into the pool!  The pool is very shallow I think the deepest is 6 feet and that's only around the water slide area.  The kids loved jumping into the pool (as long as I was there to catch them)
First Ian's jump sequence:
Next Jensen's jump sequence:
and some more pool pics:
We really enjoyed staying at the Cabana Bay Beach Resort.  I felt that the free shuttles to the parks and that extra hour was well worth the few extra dollars.  After taxes and fees it came out to $168/night.  I hope you enjoyed my little recap on our Orlando vacation, this was one of the best vacations we've had and great memories were made.  One of the best decision was to have my sister come along, it created less stress with more hands to help with the young kids.  Thanks sis!!
This content uses referral links. Read our Policy Page for more info.